Pulmonary function test (PFT)
Pulmonary function tests are a group of lung tests that measure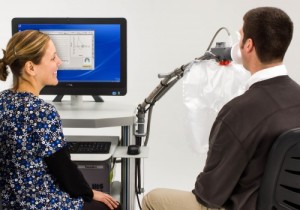 how well the lungs take in and release air and how well they move gases such as oxygen from the atmosphere into the body's circulation.
Spirometry measures airflow. By measuring how much air you exhale, and how quickly, spirometry can evaluate a broad range of lung diseases.
To measure diffusion capacity, you breathe a harmless gas, called a tracer gas, for a very short time, often for only one breath. The concentration of the gas in the air you breathe out is measured. The difference in the amount of gas inhaled and exhaled measures how effectively gas travels from the lungs into the blood. This test allows the doctor to estimate how well the lungs move oxygen from the air into the bloodstream.